31 March 2015 – Global Marketing News
Facial recognition may replace passwords online
The Chinese ecommerce giant Alibaba is developing facial recognition technology that could eventually be used as an alternative to written passwords.
The technology, which is currently in beta, would be used to validate a buyer's identity when making a purchase on Alibaba's payment service Alipay.
Alibaba's CEO Jack Ma demonstrated the technology at a recent conference in Germany, where he used his smartphone camera to scan his face to verify his identity and make a purchase.
Alibaba is the most popular ecommerce website in China, and its payment service Alipay has over 300 million users.
Alipay is not the first mobile payment service to introduce biometric scanning as a form of ultra-tough security. Apple's Apple Pay service recently unveiled a feature that uses the iPhone to scans the user's fingerprint to verify their identity.
EU vows to simplify digital rules to encourage cross-border ecommerce
The European Commission has announced its commitment to simplifying digital rules across the EU to help increase cross-border ecommerce.
Currently, all 28 EU member states have 28 separate sets of digital laws, a position that the European Commission considers untenable with a healthy European ecommerce market.
The European Commission wants to replace the 28 different sets of laws with a single law for the entire EU dealing with online data, copyright issues and VAT rules.
Currently, only 15% of EU citizens buy from other EU countries online. The European Commission hopes that by unifying the laws it will reduce confusion and encourage more cross-border purchasing.
The European Commission will release a full strategy in May.
Ecommerce Behaviour and Trends Report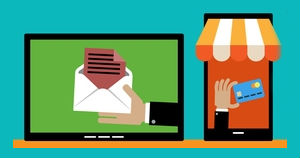 Understanding how other businesses market themselves online can provide useful insights that you can apply to your own strategy, as can taking an in-depth look at the online behaviours of your target demographic in a specific country. We'll conduct research across a range of platforms and compile a report detailing the tactics and channels utilised by selected businesses, as well as possible opportunities for you to reach your target audience in your chosen market.
Sponsored
WeChat makes gains on Alipay in Chinese mobile payments market
WeChat was the clear winner over Alipay following the two rival payment platforms' Chinese New Year red envelope giveaway.
1 billion virtual red envelopes were sent over WeChat, compared to 240 million which were sent over Alipay.
Red envelopes containing money are a traditional gift given at Chinese New Year.
WeChat's clear margin of success could mark a new era in the Chinese online payment landscape, with WeChat becoming more of a threat to the dominant Alipay.
Last year, Alipay processed over 80% of all Chinese mobile payments, compared to WeChat which processed 10% of payments.
But despite WeChat gaining an estimated 150 million new customers as a result of its Chinese New Year red envelope campaign, there are concerns over whether WeChat can continue its momentum, with potential problems such as many retailers offering Alipay but not WeChat payment options at checkouts.
Another potential problem for WeChat was revealed by Campaign Asia following a recent survey of over 6,000 WeChat users.
Many users reported that ads were popping up too frequently on WeChat's content-sharing platform Moments.
Over half of respondents said that the ads were the most annoying thing about the app, and around 4 in 10 users wanted a way to filter out ads they weren't interested in.
B2C ecommerce sales set to reach $90 billion in Latin America this year
And finally, business-to-consumer ecommerce sales are predicted to reach almost 90 billion US dollars in Latin America this year, according to research by E-Marketer.
The report predicts that 2015 will see Latin America's ecommerce market grow by around 25%, with strong growth continuing to 2018.
Brazil and Mexico are the key players driving this growth, with B2C sales in these two countries accounting for over half of all sales in the entire region.
The rise in smartphone penetration has been suggested as the key factor behind the rapid increase in ecommerce sales in the region, with research by PayPal and Ipsos revealing that a third of buyers in Brazil have used their smartphone to make a purchase, along with almost half of Mexican buyers.
Webcertain's global marketing news bulletins are daily 5-minute videos, providing marketers with the latest international digital marketing news in an easy-to-digest format.
The following two tabs change content below.
Elin Box
Content Marketing Manager
at
Webcertain
Elin is a Content Marketing Manager at Webcertain. She is responsible for Webcertain's Self-learning platform, producing in-depth guides on a range of international digital marketing topics. She also helps run the Webcertain blog and is the writer of the Webcertain search and social report, an annual report summarising digital marketing best practices in over 50 countries. She is passionate about educating and empowering people to make the best decisions for their business and is proud to help share Webcertain's wealth of digital marketing knowledge with the world. Elin is from the UK.