19 February 2015 – Global marketing news
Korean e-commerce giant 11 Street to target Malaysia
The South Korean e-commerce giant 11 Street has announced that it will launch a Malaysian version of its site in April.
11 Street is to pour 35 million Malaysian Ringgits, equivalent to 10 million US dollars, into the new site, which aims to attract 11,000 sellers by the end of the year.
The site will face stiff competition in the already crowded Malaysian online marketplace, however, with local and international names such as Rakuten, Lazada and Shoppr proving very popular in the country.
11 Street is pushing hard to attract businesses to its Malaysian platform, with the company offering incentives to sign up before April such as no store fees, 50% off transaction fees, and product listing coupons.
The CEO of 11 Street's Malaysian arm is especially keen to get offline businesses online and using the platform, saying: "We wish to foster continued e-commerce growth and elevate the maturity of the industry by empowering more local offline businesses – particularly small to medium sized businesses – to break through the traditional business model and explore the numerous e-commerce opportunities in the online space."
Yandex releases new parking app
The Russian search engine Yandex has announced the release of its new parking app.
The app, which runs on iOS and Android, will allow users to find free parking spaces in Moscow. If the user also has Yandex's navigation system installed, it will be able to give the driver directions to their desired parking space. The app updates with the latest parking space information every 10-15 minutes.
Users will have a variety of different payment options to pay their parking fees, including Yandex's payment system Yandex Money, bankcards, or a city parking account.
The app's geo-location tool will be able to tell the amount of time a user has spent in a parking space, giving them a refund of any overpay if they vacate the space before their allotted time expires.
Jack Ma wants 2 billion people to use Alibaba
The boss of Chinese e-commerce giant Alibaba, Jack Ma, has said he wants to increase its number of users six-fold to 2 billion people.
Currently the vast majority of Alibaba's 300 million users live in China and buy from Chinese businesses, so the plans for expansion include both attracting customers from other countries, and making it easier for Chinese customers to buy from foreign sellers.
Ma predicts it will take up to 8 years to convince the Chinese government to update its trade and currency regulations in order to make this possible.
This is not the first time in recent weeks that Alibaba has made headlines for its ambitious expansion plans. Earlier this month, 450 customers in Beijing, Shanghai and Guangzhou were able to buy ginger tea and have it delivered by drone.
Alibaba consists of 3 main websites – Taobao, Alibaba and Tmall – and is the most popular online shopping platform in China.
Ecommerce Behaviour and Trends Report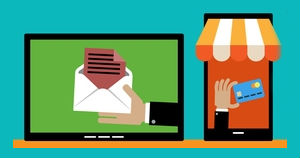 Understanding how other businesses market themselves online can provide useful insights that you can apply to your own strategy, as can taking an in-depth look at the online behaviours of your target demographic in a specific country. We'll conduct research across a range of platforms and compile a report detailing the tactics and channels utilised by selected businesses, as well as possible opportunities for you to reach your target audience in your chosen market.
Sponsored
Yahoo Japan grows in last quarter, mobile plays key role
And finally, Yahoo Japan has reported growth for the third quarter of the financial year 2015, with mobile playing a big role.
The company grew by 4.7% compared to the previous year, and advertising revenues increased even more by 5.4%.
Much of this advertising revenue was found to be coming from mobile, with mobile ads bring in 21 billion Yen, equivalent to 180 million US dollars.
This means that mobile ads made up 34% of all ad revenue and 20% of Yahoo Japan's profits as a whole.
This is more than double figures from the previous year, reflecting the fact that Yahoo Japan has experienced a 51% increase in the number of daily smartphone users in the last year.
Webcertain's global marketing news bulletins are daily 5-minute videos, providing marketers with the latest international digital marketing news in an easy-to-digest format.
The following two tabs change content below.
Elin Box
Content Marketing Manager
at
Webcertain
Elin is a Content Marketing Manager at Webcertain. She is responsible for Webcertain's Self-learning platform, producing in-depth guides on a range of international digital marketing topics. She is also part of the Webcertain TV team, where she writes scripts for short educational videos and helps with the day-to-day management of the YouTube channel. She also supports the Director of Marketing with a wide range of other marketing tasks, as and when required. Elin is from the UK.