Delivering just about everything that had been rumoured in the market – larger screens, faster A8 processor, iOS 8, inbuilt NFC chip to accommodate for ApplePay, its own mobile payments system – the iPhone 6 and 6 Plus will surely have a positive impact on Cupertino's sales as we approach the busy holiday season, which could potentially mark a record-breaking quarter for Apple.
But will it be enough to restore iOS market share in a fierce battle against exponentially growing Android? In developed regions, probably. In developing and emerging regions, which Apple is mainly attempting to penetrate with its iPhone 4, 4s and 5c models, probably not.
While Tim Cook and the rest of the gang over at Cupertino might argue that high market share is cold comfort when the margins are razor thin, Android supremacy in practically all emerging countries – territories which drive, and will continue to drive, the vast majority of overall growth in the global smartphone market – should nonetheless be a serious cause for concern for the company.
It is of course. But Apple's new flagship phones are very unlikely to move the needle much in a part of the world where price typically trumps everything else. The 5c – Apple's lower-cost model aimed at growing its presence in emerging regions, which turned out to be too costly for the wider population in those areas – is a proof in point.

This is merely speculation of course; only time will tell how this all plays out. What we can say with certainty, however, is this: The amount of attention received by a product event like the one Apple hosted yesterday is firm evidence of a media landscape that has changed beyond recognition – and this only in a matter of a few short years.
With this new multi-screen paradigm comes a bevy of challenges from a marketer's point of view, and keeping abreast of the specific trends, behaviours and needs of mobile users around the world is key to developing a successful mobile strategy. What is popular and effective in one country may simply not work in another, and with mobile internet traffic at an all-time high, providing an optimum mobile experience to your audience has never been more important. The 2014 Webcertain Global Mobile Report provides a unique overview of mobile internet usage in over 50 countries worldwide, highlighting facts from OS share to device usage to mobile-broadband penetration and giving you the fundamental information you need to inform global digital strategies as screens continue to proliferate.
App Development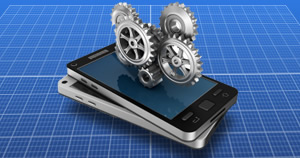 As smartphones increase in both popularity and sophistication, businesses are increasingly turning to apps to further boost their brand awareness and engagement. An experienced app developer will build a new app from scratch or improve an existing app. They will manage all aspects of developing a successful and quality app, from initial research and screen visualisation through to coding, testing and uploading the app to your desired app store.
Sponsored
Below are six key findings from the report, which is available as a free download:
More than 8 in 10 smartphones sold globally are Androids
Android phones simply just continue to sell like hotcakes around the world. That is the conclusion to be made following another impressive quarter from the world's leading smartphone OS, during which the Android juggernaut posted record shipment volumes of 255.3 million, according to IDC. Capitalising especially on the fast-growing and anything but saturated low-end smartphone market in emerging and developing regions, Android handset shipments leapt forward 33.3% year-on-year, an increase which almost single-handedly pushed total global smartphone shipments past the record-breaking 300 million mark during the second quarter of 2014. Android's spectacular performance over the past year also saw its smartphone OS sales market share reach a mind-boggling 84.7% in Q2 2014, up from 36.1% a mere three years ago.
Meanwhile, Apple's iOS posted an increase of 12.7% in the number of iPhones shipped year-on-year. This increase, however, was about half of the overall market growth, inevitably resulting in declining global market share.
Source: IDC
iOS' internet traffic market share has declined in all regions between June 2013 and June 2014 as Android surges
It does not take a genius to figure out that, when you are responsible for more than 8 out of every 10 smartphone shipments globally, it is going to reflect positively on your mobile internet traffic market share eventually. And although Android's global traffic market share is still nowhere near what its sales market share warrants, Google's open source OS has put in a solid performance over the past year, growing its OS traffic share by nearly 14 percentage points – up from 33.9% in June 2013 to 47.7% in June 2014.
The surge of Android has come at the detriment to everyone else, including Apple's iOS, which saw a decline in global mobile OS traffic share between June 2013 and June 2014, down from 36.9% to 33.4% over the period. While you may (rightfully) argue that this is only a marginal drop and no big deal, what is worrying for Cupertino is that even in the developed regions of North America, Europe and Oceania – Apple's historic strongholds – iOS has lost share, most noticeably in Europe where it has dropped 10 percentage points over the period and been supplanted by Android as the leading mobile OS by traffic.
Developing regions now boast more active mobile-broadband subscriptions than developed regions; yet, penetration levels are four times lower
The writing has been on the wall for quite some time: With more than 80% of the world's population living in developing countries, and with smart devices and data plans becoming ever-more affordable, it was only a matter of time before the number of mobile-broadband subscriptions in developing countries would go on to exceed that of developed countries. This is now the case. By the end of 2014, according to ICT estimates, there will be 1.26 billion mobile-broadband subscriptions in developing countries, making up some 55% of the world total.
Since 2010, the active mobile-broadband subscriber base in developing countries has increased five-fold, whereas developed regions has posted less than a doubling over the same period. And with penetration levels still trailing developed regions by 4:1 (21.1% in developing countries versus 83.7% in developed countries), it is little surprising that ICT expects growth rates to be more than twice as high in the developing part of the world going forward.
Enormous mobile-broadband disparities between countries persist
From outnumbering the population to barely having come into existence, the disparities in mobile-broadband penetration and overall sophistication of the telco sector are enormous between countries. Whilst the top five countries of the 52 markets surveyed in the report – Singapore, Japan, Australia, Denmark and South Korea – have an average of more than one subscription per person, the bottom countries – Peru, Kenya, India, Venezuela – have a mere three subscriptions per 100 inhabitants.
6 of top 10 countries for highest mobile internet traffic share are African
African countries populate the top 10 for mobile share of overall internet traffic. Coincidence? Of course not.
On a continent where fixed broadband reaches less than 1% of the population due to inadequate infrastructure and unfavourable socio-economics, mobile has come to be THE internet for a majority of Africans. And interestingly, the shift away from simpler feature phones to smartphones has really started to take off as ever-cheaper handsets get into the market. According to ITC, "All regions continue to show double-digit growth rates, but Africa stands out with a growth rate of over 40% – twice as high as the global average. By end 2014, mobile-broadband penetration in Africa will have reached almost 20%, up from less than 2% four years earlier."
Indeed, a lot of water has run under the bridge since The Economist dubbed Africa "The Hopeless Continent" back at the start of the millennium, and though not solely responsible for the positive U-turn of the African economy, a rapidly expanding and improving telecommunications sector is playing a vital role in the continent's progress.
Latin America and Europe post strongest mobile internet traffic growth; APAC and Africa have highest mobile share of total traffic
Mobile internet usage is growing at a rampant pace globally, with smartphones and tablets rapidly eating away at the desktop's once-so-dominant share in the overall device mix. Accounting for 20% of total global internet traffic in June 2013, mobile's traffic share now stands at 33% (June 2014), a year-on-year increase of 65%.
On a regional scale, Latin America has been leading the way in terms of growth, with mobile traffic share going up by a staggering 133% in the last year alone – more than twice the global average. Europe, coming from a lower base like Latin America, follows in second place with a 98% increase in mobile traffic between June 2013 and June 2014.
Meanwhile, Asia and Africa have the highest mobile share of overall internet traffic, with the channel accounting for 41.3% and 39.6% in the two regions respectively.
Want more of this good stuff? No problem, just click the graphic below and get specific country-level insights for 52 countries – all in one document.

Image credits:
The following two tabs change content below.
As the Research Manager of multilingual web marketing agency Webcertain, Immanuel heads up the company's global market research activities and large content marketing projects. He is the author of several reports and guides, including 'The Essential Guide to Rel-Alternate-Hreflang' and 'The Webcertain Global Search and Social Report 2013'. Apart from being a tutor at the International Marketing School -- teaching online marketing professionals on business opportunities around the globe -- Immanuel is a regular speaker at the International Search Summit, a leading event series dedicated to multilingual search and social media marketing.
Latest posts by Immanuel Simonsen (see all)