Global Marketing News – 28th April
Facebook Suffers Slowdown in Global Growth
Shares in Facebook fell by 2% last week as it reported its slowest quarterly revenue gain in two years. Meanwhile, research and development spending increased as more money was invested in products such as WhatsApp and Instagram.
Despite these figures, Facebook remains confident, reporting a rise in active monthly users of 13% since last year. It offers assurances that the increased revenue spend is in line with the forecast expenditure of between 55 and 65%, blaming foreign exchange rates and the strong US dollar for the cut in revenue.
With 87% of users accessing Facebook on smartphones and other mobile devices, Facebook is hoping to increase the revenue it receives from in-app purchasing through Facebook messenger, for services like stickers and social gaming.
However, in Asia, while the number of Facebook users is still growing, the majority of revenue still comes from advertising and eCommerce services are falling behind. This could be partly due to other messaging apps such as Line and KakaoTalk dominating the market.
Another problem is the way in which users perceive services such as social-gaming on Facebook; it will take time to pull Facebook messenger into line with other messaging apps, so that users see it as a place to make in-app purchases in the same way they would when using Android and iOS.
Facebook page content management (monthly)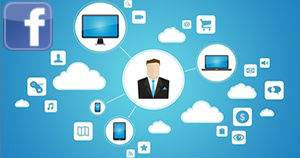 Facebook is the most popular social network in the world and is somewhere that your brand needs to be actively present. Keeping your Facebook page up-to-date maintains your online presence and this can translate into increased traffic to your website and a wider user base. This service manages your Facebook page by posting daily content such as new links, pictures, videos etc. in the languages supported by Facebook.
Sponsored
Microsoft's new smartphone to have Line messenger app pre-installed
South Korea's Naver reported last week that Microsoft's soon-to-be released Lumia 540 smartphone will come pre-installed with its free messaging app, Line. Images of the phone on the official Microsoft website show images of the phone displaying the app.
As the Lumia 540 is being marketed as a budget smartphone, with the emphasis on basic features, it is thought that the inclusion of Line reflects the growing global popularity of the app, which has approximately 180 million active monthly users.
Naver has been attempting to work with global smartphone manufacturers in an attempt to increase Line's presence.
Samsung Electronics Co. and Sony Corp. have also pre-installed the app on smartphones destined for the Thai and Vietnamese markets. This comes after Naver bought the music-streaming service, MixRadio, from Microsoft in 2014, proving that it is fast becoming a global player.
Yandex implements PrivatBank/Mastercard app for fuel refills
Yandex has launched an app in Ukraine that lets drivers find their nearest fuel station and then enables them to pay for the gas using just their smartphone. Yandex.Refueling works like this; the user selects the fuel station they want to go to, the column they want to use, the type of fuel they need and the amount. They then pay for it using the app and the selected fuel gun is unlocked.
This app comes after the success of other Yandex apps for motorists such as the navigator app, which helps drivers find the best route through traffic, highlighting traffic jams and roadworks to avoid.
The payment technology has been developed by Mastercard PrivatBank and for every litre of fuel purchased through the app, the user receives bonus points. 
US, China and India earmarked for UK eCommerce expansion
eCommerce leaders in the UK are turning their sights on high-growth consumer markets in the US, China and India, according to a new report, with up to 37% of British firms targeting these markets.
24% of companies are planning to expand further into Europe, with a third of these already exploring an online presence on the continent. The most active firms tend to be in fashion and beauty eCommerce, with luxury and fast moving consumer goods coming up close behind.
These international markets have a lot to offer British firms as a new wave of digital-savvy, middle class consumers emerges.
While establishing a new market presence can be a challenge, companies are planning to engage the help of external providers. This will give them the in-depth regional knowledge and supply-chain expertise that is needed to successfully expand into a new market.
Webcertain's global marketing news bulletins are daily 5-minute videos, providing marketers with the latest international digital marketing news in an easy-to-digest format.
The following two tabs change content below.
Elin Box
Content Marketing Manager
at
Webcertain
Elin is a Content Marketing Manager at Webcertain. She is responsible for Webcertain's Self-learning platform, producing in-depth guides on a range of international digital marketing topics. She also helps run the Webcertain blog and is the writer of the Webcertain search and social report, an annual report summarising digital marketing best practices in over 50 countries. She is passionate about educating and empowering people to make the best decisions for their business and is proud to help share Webcertain's wealth of digital marketing knowledge with the world. Elin is from the UK.