The latest International Search Summit, which took  place in Seattle at SMX Advanced last week, featured a wide range of speakers from brands, agencies and search engines, all sharing insights into international search marketing.
Here are just a few of topics discussed and tips shared:
Hreflang can now be added to XML Site maps
This is a recent development, designed to reduce the time and cost involved in implementing the tag. Hreflang can now be added to site maps, rather than needing to be added to individual page heads (although this options is still available). Google has responded to user comments on this, following concerns that the existing process was cumbersome and costly. More on hreflang tag on Search Engine Land.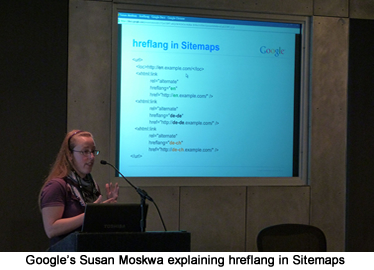 Don't just focus on Google in your Analytics
You might be using Google Analytics for your tracking, but that doesn't mean you can only track what's happening in Google. Ani Lopez from Cardinal Path recommended changing your page code so that data from local search engines including Yandex, Baidu and Naver will be displayed – giving you, amongst other things, keyword data from those engines which is increasingly valuable as Google reduces the amount of data it shares.
Ani also pointed out that you should use analytics data to ensure you aren't missing international opportunities – just because you aren't targeting certain countries, doesn't mean you aren't getting traffic from them. Don't ignore what the data is telling you!
Make your PPC campaigns" Evergreen"
Continuously running low cost paid search campaigns is an effective way to gain more data and greater understanding of each target market, which can be used to develop your online strategy. This is a tactic used by Jeremiah Andrick at Logitech, who warned against assuming that you can deploy a global strategy across all markets. He used China as an example, where Logitech had to develop not just a new marketing strategy, but new products in order to appeal to local consumers and compete with local offerings.
The advice, as always: research each market thoroughly and test, test and test some more.
Yandex has a lot to offer international users
Yandex has made many steps to become more accessible to users outside of Russia. These include offering its webmaster tools, PPC interface, bid management tools and web analytics in English and it also offers account management and support. Marketers should also make use of Yandex's data. It allows users to dig deep into specific industries and sectors to find information including user locations, keywords , brand queries and competitors, providing vital insights for developing both an organic and paid search presence in Russia.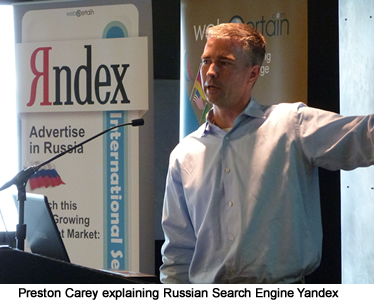 Create a Global Marketing Glossary for Reputation Management
It takes 3.5 years for a company to recover from a damaged reputation so it is vital that organisations monitor their brand globally. WebCertain's Michael Bonfils recommended creating a Global Marketing Glossary to determine which terms you need to track, and would include things such as slogans, brand names, trademarks, industry terms and competitors. This needs to be developed for each country you operate in, not just by language and, as with keywords for SEO and PPC, shouldn't be translated but carefully researched and developed by those with local knowledge.
Failing to respond to criticism, negative comments or customer complaints could result in disaster for your brand –as car brand VW found out earlier this year.
The next International Search Summit will be in New York on 1st October as part of SMX East. Super Early Bird rates are available.
The following two tabs change content below.
Gemma Houghton
Director of Marketing
at
Webcertain
Gemma has worked in international search marketing for over 14 years and is Director of Marketing at Webcertain, overseeing all marketing activities for the Group. She also organises and programmes Webcertain's International Search Summit, a search marketing conference focusing on international and multilingual online marketing which runs across Europe and the US. Gemma holds a Professional Diploma in Marketing from the Chartered Institute of Marketing, a Diploma in Management and Leadership from the Chartered Management Institute, and a BA joint honours degree in French and German.
Latest posts by Gemma Houghton (see all)