23 February 2015 – Global Marketing News
Google launches Chinese version of its YouTube developer channel
Google has announced the launch of a Chinese language version of its YouTube developers' channel.
The new channel, which is aimed at helping Chinese developers understand Google's technology, contains original content in Mandarin Chinese and also English content with Simplified Chinese captions.
This is not the first time in recent months that Google (which owns YouTube) has attempted to reach out to Chinese developers, having made it possible for them to make money on the Google Play Store last November.
YouTube is blocked in China, however, so any Chinese developers wanting to watch the channel will have to do so using a VPN.
New European online gambling rules prompt takeover talks
New European online gambling regulations have prompted a wave of takeover talks in recent weeks, as reported by the Wall Street Journal.
The new EU digital tax, which was introduced on the 1st January this year, means that companies who sell digitally in Europe, such as online gambling companies, will be taxed according to where the customer is, rather than where the company has its headquarters. The tax is predicted to bring in an extra 1 billion US dollars for the EU.
The UK has also recently brought in a separate rule which means that online gambling firms must get licenses and start taxing British revenues.
The moves have prompted takeover talks amongst several major online gambling firms, including 888, William Hill, and Bwin.
British retailers feel confident in branching out internationally
A study by the Royal Mail has revealed that British online retailers are feeling increasingly confident in branching out to new international markets.
The survey showed that almost two thirds of small and medium sized businesses intended to increase their international sales this year, with 84% saying they intended to target a new country.
America was the most popular target market for those wanting to sell to a new country, with Russia and Canada also proving popular.
Target Market Discovery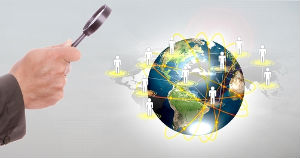 When you are considering expanding your business internationally, it is important to conduct an in-depth research to identify the most viable prospective markets. This will help you understand which specific customers will benefit from your offer, their needs, lifestyle and buying behaviour, distribution channels available, who your competitors are in each market, and how they differ from you. One of our native research specialists will conduct this research and create a shortlist of your top target markets highlighting any potential logistics, legislative or regulatory issues that could impact your brand. We will also provide evidence and advice on each market and indicate strategies for entering each of these markets safely and cost-effectively.
Sponsored
Expedia and Priceline account for over half of all online travel sales worldwide
Research by the analytics company PhocusWright has shown that the online travel agencies Expedia and Priceline account for over half of all online travel sales worldwide.
Expedia announced last week that it 2014 bookings increased by 26% on the previous year to over 50 billion US dollars. Priceline also reported similar increases.
The dominance of these big companies has been criticised by the Australian website Travel Trends, which said that it was harming smaller companies which were struggling to compete. Local online travel agencies were quoted as saying: "The business is in a fair bit of trouble," and "I'm not happy with the way things are going at the moment."
MyOptique Group expands into Germany
And finally, the optical company MyOptique Group has expanded into Germany with its acquisition of Netzoptiker, according to the Retail Times.
MyOptique Group is an online retailer of glasses, sunglasses and contact lenses, and is already popular in Britain and Scandinavia. The Group acquired the German optical company Netzoptiker as part of its efforts to expand across Europe.
Kevin Cornils , the CEO of MyOptique, commented on the acquisition, saying: "This is a great opportunity for the MyOptique Group to bring its expertise and experience in the online optical market and great product to the existing Netzoptiker customer base and to German consumers. We believe our 10 years of experience in the market, customer-centric approach, and strong product propositions will position us well to improve the offering of Netzoptiker and improve its ability to grow in the German market."
Webcertain's global marketing news bulletins are daily 5-minute videos, providing marketers with the latest international digital marketing news in an easy-to-digest format.
The following two tabs change content below.
Elin Box
Content Marketing Manager
at
Webcertain
Elin is a Content Marketing Manager at Webcertain. She is responsible for Webcertain's Self-learning platform, producing in-depth guides on a range of international digital marketing topics. She also helps run the Webcertain blog and is the writer of the Webcertain search and social report, an annual report summarising digital marketing best practices in over 50 countries. She is passionate about educating and empowering people to make the best decisions for their business and is proud to help share Webcertain's wealth of digital marketing knowledge with the world. Elin is from the UK.