16 April 2015 – Global Marketing News
Japanese court orders removal of negative reviews from Google Maps
A court in Japan has ordered Google to remove 2 negative reviews that were written on Google Maps about a Japanese medical practice.
The reviews were written by an anonymous user who claimed that they had received substandard treatment from a doctor at the medical facility, a claim that the doctor denies.
The court has ordered that Google remove the reviews not only from its Google Japan results, but across every single one of its sites.
The reviews do not violate Google's terms of use and therefore Google have announced that they are going to appeal the court's decision, citing fears that removing these negative reviews would amount to censorship.
In a statement, Google defended freedom of speech, saying: "We believe online reviews, positive and negative, are a critical tool for people to give and read direct feedback about businesses."
Dutch social media trends revealed
Research by Newcom has revealed changes in the popularity of different social networks in the Netherlands.
When looking at daily active usage, the report found that Pinterest had made the steepest gains, with a 101% increase in active users in the last year.
The research found that Facebook was the dominant social network, with almost 10 million Dutch users at the beginning of this year. However, it seems that Facebook is falling in popularity amongst younger users, with the number of users aged 15 to 19 actually dropping by 12%.
Instagram, LinkedIn and Google+ also made significant gains in active usership, whereas foursquare and Twitter both saw reductions in active usership.
Social media audit - organic activity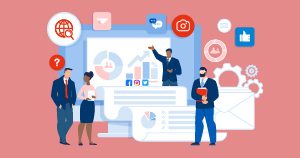 Having a presence on social networking platforms is an essential part of any online strategy, but if your strategy has a global focus, it can be difficult to track performance for each market or spot the gaps between your current successes and where you need to be. The best way to ensure your international social media campaigns are achieving your goals is by conducting an audit. This service will give you an insight into the performance of your social media activities, identify gaps, and help you gain a better understanding of how users interact with your brand. Our Social Media Specialists will analyse your company's existing social media presence in the language and platform of your choice, and provide actionable feedback that will help you adjust and improve your strategy to achieve better results.
Sponsored
Tencent's worth breaks $200 billion mark
The market value of the Chinese internet technology company Tencent has broken the 200 billion US dollar mark.
This means that it is now worth more than Yahoo, Amazon and eBay, and only marginally behind Facebook, which is worth 231 billion US dollars.
Tencent is one of China's most well-known internet companies and owns the web portal QQ.com, the instant messaging app Tencent QQ, and the social networking app WeChat, as well as being involved in mobile and online gaming.
Global PC shipments fell last quarter
Research by Gartner has revealed that global PC shipments fell in the last quarter, meaning that PC shipments have now been falling every quarter for over 2 years.
Just over 70 million PCs were shipped last quarter, a decline of over 5% compared to last year and the lowest shipment levels since 2009.
Gartner speculated that the reason behind the drop in PC shipments was the slowing pace at which businesses were willing to refresh their employees' computers, as well as an increasing trend for consumers to buy new high-tech smartphones rather than new PCs.
The research found that there were increases in shipments for certain types of computers, however, such as notebooks and hybrids.
When looking at global shipments of particular PC brands last quarter, Lenovo came out on top, with Hewlett-Packard in second place, Dell in third, Asustek in fourth and Acer in fifth.
There were some significant regional differences, with Apple coming in third place in the US despite not making it into the top 5 brands worldwide.
"Bermuda Dreaming" social media campaign launches to promote tourism
And finally, a group of Bermudans have launched an online campaign to raise the profile of their island as a tourist destination using social media.
The group, called Bermuda Dreaming, has created profiles on Facebook, Twitter, Instagram and Tumblr and wants people to share their photos of Bermuda using the "Bermuda dreaming" hashtag.
The groups has spoken out about the project, saying: "The hope is that everyone will start using hashtags that will lead a broad audience to discover Bermuda and that the bermudadreaming hashtag will be used by those wishing their images to be shared on Bermuda Dreaming social media."
Webcertain's global marketing news bulletins are daily 5-minute videos, providing marketers with the latest international digital marketing news in an easy-to-digest format.
The following two tabs change content below.
Elin Box
Content Marketing Manager
at
Webcertain
Elin is a Content Marketing Manager at Webcertain. She is responsible for Webcertain's Self-learning platform, producing in-depth guides on a range of international digital marketing topics. She also helps run the Webcertain blog and is the writer of the Webcertain search and social report, an annual report summarising digital marketing best practices in over 50 countries. She is passionate about educating and empowering people to make the best decisions for their business and is proud to help share Webcertain's wealth of digital marketing knowledge with the world. Elin is from the UK.