18 March 2015 – Global Marketing News
Korean search company Naver enters Brazil
The South Korean search company Naver has entered the Brazilian market with the launch of its Whoscall app in the country.
Whoscall is a caller ID app that allows users to see who is calling them, allowing them to ignore spam calls and only answer legitimate ones.
The app is available for free on Android, iOS and Windows smartphones, and its database contains over 700 million phone numbers.
Although Naver's attempts to expand outside of Asia have been largely unsuccessful so far, the search giant hopes that Brazilians will warm to Whoscall as spam calls are a major problem in the country.
The head of Naver in Brazil has said that it hopes to expand further in South America if its launch in Brazil is a success.
Tencent opens store on Alibaba's Tmall platform
Just days after we reported that Amazon opened a store on Alibaba's Tmall platform, it has emerged that Tencent has done the same and opened its own Tmall store.
Tencent's Tmall store contains various Tencent and QQ-branded gadgets, such as wifi dongles, speakers and robots.
Tmall, which is owned by Alibaba, is one of the most popular B2C ecommerce platforms in China and takes a cut of the profits when a business sells to a customer.
Tencent's arrival on Alibaba's Tmall platform has been met with surprise, as the two companies have a historically tense relationship.
The rivals went head-to-head earlier this year with separate high profile red envelope giveaways over Chinese New Year, where they blocked each other's payment platforms from their social channels.
The tech companies are also fierce rivals in the entertainment and mobile commerce sectors.
Ecommerce Behaviour and Trends Report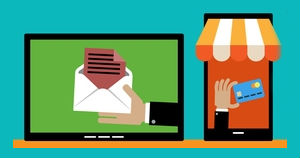 Understanding how other businesses market themselves online can provide useful insights that you can apply to your own strategy, as can taking an in-depth look at the online behaviours of your target demographic in a specific country. We'll conduct research across a range of platforms and compile a report detailing the tactics and channels utilised by selected businesses, as well as possible opportunities for you to reach your target audience in your chosen market.
Sponsored
Poland relaxes its online gambling laws
Poland has relaxed its online gambling laws, making it easier for foreign operators to tender for national gambling licenses.
Previously, international gambling companies had to have an operational base in Poland and be partnered with a local subsidiary.
The new rules will make it easier for international companies to enter the Polish online gambling scene and will also lower taxes applied to the industry.
Under the previous laws, only 4 foreign companies had been able to successfully apply for a license: Fortuna Entertainment, Totolek ,Milenium and STS.
The Polish government hopes the new rules will encourage foreign companies and generate hundreds of millions of Euros.
Online sports betting is the only form of online gambling allowed in Poland, with online poker remaining illegal in the country.
Japanese ecommerce giant Rakuten invests $300 million in car-sharing app Lyft
The Japanese ecommerce giant Rakuten has invested 300 million US dollars in the American car-sharing app Lyft, giving it a 12% stake in the US company.
Lyft operates in over 60 cities across the US, and hopes that the investment will help it to grow and challenge its more established rival Uber, which currently operates across 277 cities in over 50 countries worldwide.
Lyft is growing rapidly in popularity, with both revenue and number of rides increasing fivefold last year.
This is not the first time that Lyft has attracted attention from the Far East, last year the Chinese ecommerce giant Alibaba invested in the car-sharing company too.
Android phones dominating the mobile space in Mexico
And finally, data from InMobi has revealed that Android phones are capturing by far the most mobile ad impressions in Mexico.
Smartphones in general have increased their share of all mobile ad impressions, with 78% of all mobile ads being viewed on smartphones, up 7% on 2 years ago. Meanwhile, the proportion of ads being viewed on feature phones has dropped over the same period.
This reflects the changing mobile landscape in Mexico, with smartphones rising rapidly in popularity, with 2016 predicted to be the year that the number of smartphones overtakes the number of feature phones in the country.
When dividing up mobile ad impressions by operating system, Android came out on top, with almost 70% of mobile ads being viewed on an Android phone, up 15% on the previous year.
Webcertain's global marketing news bulletins are daily 5-minute videos, providing marketers with the latest international digital marketing news in an easy-to-digest format.
The following two tabs change content below.
Elin Box
Content Marketing Manager
at
Webcertain
Elin is a Content Marketing Manager at Webcertain. She is responsible for Webcertain's training platform, producing in-depth guides on a range of international digital marketing topics. She is also part of the Webcertain TV team, where she writes scripts for short educational videos and helps with the day-to-day management of the YouTube channel. She also supports the Director of Marketing with a wide range of other marketing tasks, as and when required. Elin is from the UK.