Meet Jessica.
Jessica is in charge of managing social media for a UK-based company that targets international audiences across a range of markets. The company has been doing quite well abroad over the past couple of years after launching localised versions of their website and allocating more budget to pay-per-click advertising and display.
Company execs are enthusiastic about the development and have an appetite for more. In fact, they have made further expansion into international markets a top strategic priority.
Jessica is enthusiastic as well and sees great potential in localising the company's social media presence, which at present is in English-only.
The only thing is this: How is she going to approach it? How is she (and the company) going to tackle the transition from a single-language social presence into one that accounts for multiple markets, languages and platforms; one that will count numerous stakeholders, potentially span across time zones and cater to people with widely diverging cultural values and social media behaviours?

You see, pulling social off globally is no easy feat. And that is why we want to help Jessica out (and all the rest of you in a similar position of course). In fact, so much so that we have put together a comprehensive 30+ pages guide that will provide you with a step-by-step framework for planning a global social media strategy that is destined to pack a punch once it goes live – globally and locally. It can be downloaded for free here.
Below, you will find a shortened version of the framework, but I strongly recommend you to go download the full document.
Step 1: Get the C-suite on board
Without full support and participation from those holding the purse strings, your enthusiasm for expanding the company's social footprint will only take you so far.
While you would have thought that gaining executive buy-in 1.3 billion Facebook users down the road would be as easy as pie, this remains a significant hindering block to expanding social programs in many organisations today.
A successful global social media deployment is a huge task, one that requires immense planning, long-term dedication, and collaboration across the entire organisation – including, in many cases, collaboration with agencies outside of the organisation. And without commitment from the folks high up, it is an impossible task.
So make it a priority from the outset to convince these decision-makers of how an organised, coordinated and localised effort into social is likely to greatly enhance the company's performance in international markets.
Step 2: Select your markets wisely

Since the topic of transitioning a single-language social presence into one that accounts for multiple languages typically only arises once international market have begun to generate a somewhat considerable portion of a company's revenues, it gets easier to choose which markets to localise for. The reason for this is quite simple: Because you are already doing business abroad, you have tangible data to guide your decision. Questions to ask include:
Is the current revenue contribution from country "X" substantial enough to justify this added level of commitment?
How important is country "X" as a strategic future battlefield (irrespective of whether it has yet to contribute any notable value)?
How sizeable a share do current fans/followers from country "X" make up on our global social profiles?
It is important that you are selective here. Do not bite off more than you can chew by setting out on quest to conquer and stun the world's social media users all at once. Instead, choose your battles wisely and in accordance with your resources. Bear in mind that it is also much, much easier to get C-suite buy-in for further expansion once you are able to prove the positive business outcomes of a localised social media presence.
Step 3: Assemble a global social dream team

Expanding your social footprint into new markets and languages necessitates expanding your team too (or teaming up with agencies).
First of all (it really should go without saying), you need native speakers for the markets you aim to localise for. Obvious right? Well, you would be amazed just how many companies have attempted to pull off a social presence in foreign countries by relying on automated translation services such as Google Translate. If this approach does not work for keyword research, imagine what happens when you use it to engage in colloquial conversations chock-full of slang and cultural undertones?
Now that this is clear (yes, I just needed to get it off my chest), it is worth stressing that appointing local social media managers goes beyond merely being able to speak the language of your target market. As Zach Fisbain puts it: "Just because Luis from sales speaks Spanish does not mean he qualifies to manage your social media."
His point is that, even within same languages, significant linguistic, cultural and political differences exist. And being completely immersed in that culture is an absolute necessity for building a credible, authentic social media presence.
Another critical skill that any member working on your social programs in international markets must possess is brand immersion – in other words, these people need to know your brand inside out. And this is not such an easy task to achieve when dealing with new hires who might reside in local offices far away from the company headquarters.
It is your responsibility nonetheless to ensure that each team member is able to communicate in a way that always supports and is consistent with the global brand, irrespective of where in the world or in which language that tweet or Facebook update is being posted. More on that later.
Step 4: Listen (know your audience)

Hemingway famously said, "When people talk, listen completely. Most people never listen."
Simple yet powerful words. And certainly, they seem to suggest why so many corporations neglect this crucial step: We are simply better at talking than listening.
However, without paying attention to what is being said about you, by whom it is being said, and where it is being said, how are you supposed to intelligently join in on those conversations in a way that adds value to your audience?
Now if this remains a challenge for businesses that deal with a monolingual audience in a single market, imagine the complexities inherent in monitoring conversations and sentiments across multiple markets, platforms and languages (many of which you may not even speak).
Perhaps this is the reason why so many international businesses dive headfirst into tweeting, facebooking, Gplussing (or whatever that is called) with no real plan or purpose in place. But it does not change the fact that putting tactics before listening, goal-setting and strategy is like putting the cart before the horse: It will not take you very far.
A multilingual listening strategy, when properly managed, is arguably the single most important aspect of planning your global social strategy; it will guide every single step of your journey onwards – from defining objectives to setting strategy to tactics. And the good news is that, with the right people, tools and workflows in place, it is not so damn hard.
Step 5: Define social objectives – globally and locally

Defining your social media objectives gets a whole lot easier when you have put in the time to get to know your audience first. Tying these insights into overall business goals will help you set objectives more accurately, and most importantly, in a way that aligns with your company's broader business strategy – globally and locally.
Step 6: Choose channels and organise them

If you are able to answer the following question in a comprehensive, well-argued manner for each of the markets for which you plan to expand your social presence, please proceed. If not, it is because you have not done your homework well enough (in which case you should take a few steps backwards in this framework).
Social media audit - organic activity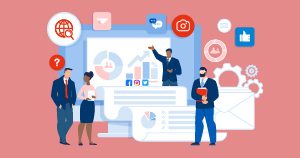 Having a presence on social networking sites is an essential part of any online strategy and if your strategy has a global focus, it's often difficult to track performance for each market or spot the gaps between your current successes and where you need to be. The best way to ensure your international social media campaigns are achieving your goals is by conducting an audit. This service will give you an insight into the performance of your social media activities, identify gaps, and help you gain a better understanding of how users interact with your brand. Our social media specialists will analyse your company's existing social media presence in the language and platform of your choice and provide actionable feedback that will help you adjust and improve your strategy to achieve better results.
Sponsored
 Which platforms are most likely to achieve our objectives – and WHY?
It is imperative that you are able to answer the "why" because it will avoid you from falling into the trap of selecting all the big global networks by default.
Allow me to explain.
Firstly, you do NOT want to stretch yourself thin when rolling out (much in the same way as when choosing your markets in step 2). Focus on a few key channels that tie in well with your objectives, prove ROI, and then gradually expand in accordance with your resources.  Answering the "why" requires you to evaluate these platforms more critically and as such helps you be more selective.
Secondly, Facebook, Twitter and the likes do not rule the roost everywhere. Heck, in China, the world's biggest internet market, these networks are not even accessible due to government bans.
Download guide for a list of the most important local networks globally.
Hub-and-spoke model is best practice when organising your channels
Once you have decided which platforms to focus on for each locale, you need to structure and streamline those channels in a way that maps onto your organisational setup. A clear-cut organisation and prioritisation of how your different assets come together will dramatically improve your performance once you start churning out those tweets, Facebook updates and blog posts.
Experience suggests a hub-and-spoke model is best practice, with the hub typically being an owned platform such as a blog.
While there are numerous reasons as to why it makes good sense to turn an owned platform into the hub for your social efforts, the model is not without its challenges from an international perspective.
Here is why.
Solution 1: Full localisation for each market
In a marvellous, (for most companies) rather utopic world with unlimited resources, you would have a blog or other owned social asset as the hub for each and every country you are targeting; then on top of that, full localisation for all your social networks in each market. This is ideal from a consumer perspective, but it is also terribly resource demanding and expensive and thus out of the question for most companies.
Solution 2: Owned social hub in one language "only"; most important social profiles are fully localised
The second solution (see below) is a rather trimmed version of the fully localised social presence: It leaves out the time-consuming and expensive undertaking of creating a well-oiled, high quality blog for each market; focuses on fewer channels globally and locally; but does have fully localised, standalone social profiles for the top priority platforms.
Since in this specific case you do not have owned social hubs that cater specifically to French and Italian speakers, more of the content on Facebook and Twitter will be geared towards driving traffic to the websites for these countries (e.g. www.yoursite.fr; www.yoursite.it). Additionally, it will be more dependent on content curation from local third-party sources to ensure there is enough material to keep these channels running on their own.
Solution 3: "Glocal" social
If supporting even a few fully localised, separate social profiles is out of line with your bandwidth, there is a way to make the social journey up Mount Olympus – the one that sets out to achieve local relevancy without compromising brand consistency – shorter.
Facebook's and LinkedIn's built-in language and geo-targeting capabilities allow you to achieve local relevance from a single, consolidated global page. This setup is often referred to as a "glocal" approach because it combines global elements (the company profile will be in English) and local elements (it targets posts in the local language of specific countries or regions).
Not only does this significantly reduce the brand consistency issues which may arise from managing various individual pages, it also allows you to blend local posts which are relevant to a particular geo with broader appealing content that goes out to all fans/followers. The net result is that you will not have to create as much local content because it is supported by global content in English.
Is this ideal? No. Is it better than merely having a social presence in English? Definitely.
As for Twitter, the website's non-existent geo-targeting options for organic tweets mean you will need to create separate accounts for each of the markets you target.
It is important to stress that these different ways of organising your channels are not written in stone. They are not some either/or approaches to strictly abide by. Rather, they are some of the most common varieties when managing social globally. You may thus decide to take elements of each approach or blend them otherwise in whichever way makes sense for your business.
Learn more about Facebook's Global Pages framework and why it is important to interlink all the social profiles in your global network (you will also learn how to do it via a step-by-step walkthrough).
Step 7: Plan to operate

By now you have selected your troops, defined your global and local social media objectives, chosen your social channels and organised them in a way that maps onto your organisation. Ready to start tweeting in multiple languages? Almost.
Before you unleash your teams onto your social channels, you need a plan to operate in order for things to run smoothly. With so many potential stakeholders involved, things can quickly go awry if clear-cut rules, processes and responsibilities are not established. Several elements fall under this step:
Enablement and governance:
How do you (the global implementation team) strike a balance between no control at all and too much control? Your brand can quickly get out of hand if social becomes a free-for-all activity, whereas really strict corporate approval processes and social media policies are likely to paralyse local teams in a way that sees them unable to leverage the real-time nature of social.
Moreover, what is permissible and what is not? As your social teams grows bigger and gets more distributed, this bit gets more important but also more difficult to implement. Training of the teams that run your local social media programs and providing them with easy access to documents such as brand style guides, social media policies and best practices are fundamental here.
Assigning activities to each role (workflows and processes):
Who is responsible for responding via social channels?
How do you ensure that the right people see the right information? For example, who will respond to that customer complaint on Twitter in Japan and put out the spark before it escalates? Again, with multiple stakeholders involved, it is crucial that you map out responsibilities for each role and assign workflows to improve speed of response. Real-time is everything in social. And on a global scale, across time zones, and oftentimes with strict corporate approval processes in place, responsiveness is easily lost.
Develop a global/local content plan:
What is the balance between local and global content? How much support will/should local teams receive from the global unit? Remember that the far majority of content should be locally oriented. If you are unable to achieve that, why would you set up a local page in the first place?
What kind of content is likely to meet your objectives? Who will be responsible for producing it? Who will be responsible for monitoring it? Where and when will it be published?
Believe it or not, you are now ready to start doing what you set out for in the first place: building and engaging your global social following in a way that is locally relevant yet globally consistent; focused and tightly aligned with overall business goals (locally and globally); and last but not least, highly efficient.
Step 8: Measure performance

Because you have set specific targets for social in each of your markets as part of your objective setting, you will know precisely what Key Performance Indicators to measure against to show progress.
At the global level, be careful with quantitative like-for-like comparisons between markets. Each locale will be unique; from the channels you use to how people engage on them to which KPIs you have set. Instead, hone in on which tactics, topics, and content formats bring the best results in each market.
Then iterate and refine.
Image Credits:
Photo 1
Photo 2
Photo 3
Photo 4
Photo 5
Photo 6
Photo 7
The following two tabs change content below.
As the Research Manager of multilingual web marketing agency Webcertain, Immanuel heads up the company's global market research activities and large content marketing projects. He is the author of several reports and guides, including 'The Essential Guide to Rel-Alternate-Hreflang' and 'The Webcertain Global Search and Social Report 2013'. Apart from being a tutor at the International Marketing School -- teaching online marketing professionals on business opportunities around the globe -- Immanuel is a regular speaker at the International Search Summit, a leading event series dedicated to multilingual search and social media marketing.
Latest posts by Immanuel Simonsen (see all)