3 March 2015 – Global Marketing News
Thai businesses using Instagram and Line to drive sales
There's an increasingly popular trend in Thailand for retailers to post pictures of their products on Instagram and complete the sale using Line, as reported by Tech in Asia.
With mobile penetration at a staggering 150% in the country, and up to 40% of the population owning a smartphone, mobile is the way that ever more businesses are choosing to interact with their customers.
Instagram and Line are the most popular social channels in Thailand, with 33 million registered Line users and 2 million Instagram accounts.
An increasing number of businesses are posting pictures of their products on their Instagram account and including their Line contact details somewhere on their profile. Users can then contact the business using Line to ask any questions and complete the transaction.
Young Mexicans love social media
Research from E-Marketer and the Competitive Intelligence Unit has revealed that almost all young people in Mexico are active on social networks and instant messaging apps.
95% of 20-30 year olds in Mexico have used social media this year, and 96% have used an instant messaging app.
The majority, almost 60%, also said that they had a smartphone. Tablet usage remains low amongst Mexico's young people, however, with just 8% of 20-30 year olds owning one.
High social media usage seems to be a habit of young Mexicans rather than Mexicans in general though, as under-30s make up only around a third of Mexico's population yet represent over 60% of social media users.
The strong desire to stay connected with friends is touted as the key reason for the high penetration of social channels and instant messaging. Data from 2013 also supports this viewpoint, showing that 90% of young Mexicans use email.
SEO Booster for Mexico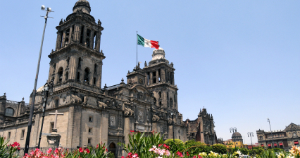 In order to have a high ranking on Google in Mexico and attract relevant traffic, your website needs to be optimised. A search-trained Mexican native will begin the SEO process by conducting keyword research to identify the relevant terms for the Mexican market. They will use these keywords to do keyword mapping and produce Spanish meta-data for your website. As well as on-page optimisation, they will also submit your website to relevant directories in Mexico to boost your backlink profile.
Sponsored
Cuba pledges to improve country's internet
Cuba has pledged to improve the speed and accessibility of the internet in the country, according to Reuters.
Cuba currently ranks 125th out of 166 countries in terms of internet development, with only a quarter of Cubans having access to the internet and only a tiny proportion having a high-speed connection.
Cubans can access free, State-controlled internet at schools and workplaces, but must pay expensive hourly fees if they want to go online at one of the country's state internet offices.
Yandex and Naver both experience poorer-than-expected performance
The search engines Yandex and Naver have both announced that their Q4 2014 earnings fell below analysts' predictions.
Yandex had been predicted to make 14.74 billion rubles, but in fact only made 14.67 billion rubles. Likewise, Naver had been predicted to generate 163 billion won, but in fact only made 135 billion won.
Yandex's poor performance was blamed on the fluctuating value of the ruble, which has plummeted in value recently. Meanwhile, Naver's poor performance was blamed on the weaker-than-expected performance of its gaming app Line, in particular the game Line Rangers.
Weibo reveals Chinese New Year stats
Weibo has released some impressive stats about usage over Chinese New Year.
102 million people logged into their Weibo accounts on the evening of Chinese New Year and 35 million of these took part in Weibo's own New Year event.
45 million people posted about Chinese New Year, with these posts receiving a staggering 4 billion views.
And, in what must have been a good start to the year, just over 15 million users also won money on Weibo's New Year red envelope giveaway.
SMX West
And finally, just a reminder that SMX West 2015 is kicking off today, with a full day of sessions covering the hottest topics in organic and paid search marketing. We'll be at the event today so tune in tomorrow to hear the latest news and views from the brightest minds in search marketing.
Webcertain's global marketing news bulletins are daily 5-minute videos, providing marketers with the latest international digital marketing news in an easy-to-digest format.
The following two tabs change content below.
Elin Box
Content Marketing Manager
at
Webcertain
Elin is a Content Marketing Manager at Webcertain. She is responsible for Webcertain's Self-learning platform, producing in-depth guides on a range of international digital marketing topics. She also helps run the Webcertain blog and is the writer of the Webcertain search and social report, an annual report summarising digital marketing best practices in over 50 countries. She is passionate about educating and empowering people to make the best decisions for their business and is proud to help share Webcertain's wealth of digital marketing knowledge with the world. Elin is from the UK.