24 April 2015 – Global Marketing News
Baidu announces launch of Baidu Mall
China's leading search engine Baidu has announced that it is entering the world of ecommerce and will soon be launching Baidu Mall.
Baidu Mall will be an ecommerce platform for China and is expected to launch to consumers in June of this year, with retailers being able to create their online stores from May.
Retailers will be able to list their products on the platform, and will also be able to design how their store will look.
Baidu is the most popular search engine in China, with a market share of around 60%.
Baidu account opening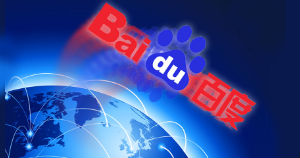 Advertising on Baidu helps you tap into over 70% of the world's largest market. However, opening a Baidu account can be complex for non-Chinese businesses, but with one of our native Chinese PPC Specialists on hand to help, we will ensure your application process is stress-free, providing advice on the type of documents you will need to submit, translation of relevant documents (if required), account set-up fees and the cost of advertising on Baidu. We will also submit all the necessary paperwork to Baidu and arrange for your PPC account to be up and running in just four weeks!
Sponsored
Majority of rural Indians don't understand or trust the internet
The majority of people in rural India who avoid using the internet do so because they either don't know how to use the internet or don't trust it.
This finding, based on research by Accenture, suggests that simply providing rural Indians with education about the internet would be enough to get them online and engaging in activities such as online shopping.
Over a third of rural Indians who did not engage in ecommerce said that they would consider doing so if they were simply told how to do so. Almost 30% said that they could be persuaded by learning from family and friends how easy it was.
Figures from E-Marketer show that uptake of ecommerce in India is still extremely low. Only 8% of the population research products online and only 6% buy online.
Unilever wants to increase global online sales by 40%
Unilever has said that it wants to increase its global online sales by 40% this year.
The company is changing its strategy to focus more on ecommerce and digital than it has done before. It has only recently started in the ecommerce market, having traditionally sold its products through retailers but is now changing tack to sell directly to customers.
It has had a good start to the year, with revenue increasing globally by 3% year-on-year. Growth has been especially strong in emerging markets like India and China, unlike Europe where sales have struggled.
Unilever is not the only fast-moving consumer goods company aiming to increase its ecommerce sales this year, Mondelez, Diageo and AB InBev have also stated their intentions to boost their digital sales.
Alibaba fined 800,000 yuan
The Chinese ecommerce platform Alibaba has been fined 800,000 yuan, equivalent to almost 130,000 US dollars, by the Chinese price bureau.
The fine was imposed after it was discovered that third-party sellers on the platform had been breaking rules and regulations governing the pricing of products during promotional events.
Alibaba confirmed the fine, saying that: "[We have] been fined 500,000 yuan ($81,000) for matters related to Singles' Day pricing by third-party sellers on our Tmall marketplace in 2013 and 2014, and 300,000 yuan ($48,000) for pricing in other promotions in 2013 and 2015."
This is not the first time that Alibaba has been under the spotlight for alleged mispractices. In 2011, multiple Alibaba employees were arrested for working with criminals to defraud customers. The company has also received criticism for not doing enough to combat the large number of counterfeit products on its site.
Google Street View now includes Loch Ness
And finally, Google has updated Street View to include images from Loch Ness.
Loch Ness enjoys a high level of popularity online, with more searches than Buckingham Palace.
Users can now view images from the surface of the Loch, which stretches for 23 miles, and can also view some underwater images too.
The Loch was added to Street View on the 81st anniversary of the now infamous hoaxed photograph of the Loch Ness monster.
Webcertain's global marketing news bulletins are daily 5-minute videos, providing marketers with the latest international digital marketing news in an easy-to-digest format.
The following two tabs change content below.
Cal O'Connell
Lead Videographer
at
Webcertain
Cal has been the Lead Videographer at Webcertain for nearly seven years, creating a whole range of digital video content. As his main passion, and with over ten years of experience, he also has a hand in making feature films, short films and other online content, as well as providing his voice (and sometimes his face) to videos. In addition to Webcertain's content, he also plays a part in creating content for a wide selection of our clients!
Latest posts by Cal O'Connell (see all)