9 March 2015 – Global Marketing News
Baidu has app removed from Brazil's Google Play Store after spat with Qihoo
Baidu has had its antivirus app removed from the Google Play Store in Brazil as part of an ongoing spat with rival Qihoo in the country.
The app was removed on the orders of a Brazilian judge as a punishment for falsely accusing a rival app, PSafe, of being a virus.
PSafe, which is the most popular antivirus app in Brazil, is backed by Baidu's fierce rival Qihoo.
Baidu had been accused of aggressively pestering its Brazilian customers with pop-ups falsely claiming that the PSafe app was a virus, a tactic that resulted in 700,000 people uninstalling the PSafe app.
When a judge asked them to change this message, Baidu claimed that it could not change the message for only that app.
This was later discovered to be untrue, however, and it is this dishonesty that has led to Baidu's app being removed from Google Play.
Ecommerce growing in popularity in Indonesia
Indonesians are increasingly going online to do their shopping rather than going to physical stores, as reported by the Wall Street Journal.
Almost 6 million of Indonesia's 75 million netizens engaged in online shopping last year, and as Indonesia's online population grows the number of online shoppers is set to increase too.
This increase was noted recently by BliBli, one of Indonesia's most popular ecommerce platforms, which reported a 400% increase in user numbers from 2013 to 2014.
Susie Sugden, co-founder of Vela Asia, a popular Indonesian e-commerce platform, explained why Indonesians were attracted to online shopping, saying: "E-commerce is growing because Indonesians are finding it increasingly easy to get online, and the offline stores have not been able to keep up with their demand."
The convenience of online shopping, with users being able to shop from their own homes and with a wider range of payment options available than in physical stores, has also been touted as a major reason for its popularity.
The rapid uptake of smartphones is also having an impact, allowing more people to get online. Indeed, 40% of Vela Asia's Indonesian sales came from smartphones last year. In response to the high volume of mobile customers, platforms are increasingly using responsive design, which makes websites mobile-friendly.
SEO Booster for Indonesia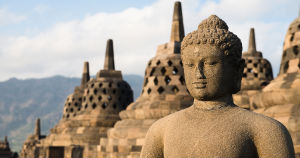 In order to have a high ranking on Google in Indonesia and attract relevant traffic, your website needs to be optimised. A search-trained Indonesian native will begin the SEO process by conducting keyword research to identify the relevant terms for the Indonesian market. They will use these keywords to do keyword mapping and produce Indonesian meta-data for your website. As well as on-page optimisation, they will also submit your website to relevant directories in Indonesia to boost your backlink profile.
Sponsored
EU study reveals how Europeans use the internet
The EU has conducted a study into how Europeans use the internet.
The study ranked countries based on factors such as how many people used the internet, how good they were at using it, what they used it for, and how well businesses were taking advantage of the internet.
Denmark came top of the European league table, with Romania coming bottom, with the European Commission's Vice President for the Digital Single Market adding that: "The great majority of Europeans are online".
The European Commission predicted that if everyone in Europe came online, it would generate a quarter of the trillion Euros for the EU economy, and create over 100,00 new jobs.
Ad spending falls in Finland
Research by TNS Gallup Finland has revealed that advertising spending fell almost 5% in Finland last year compared to 2013.
The biggest decline was in magazine advertising, which saw a fall of over 15%. TV and newspaper advertising also saw falls of 5% and 8% respectively.
Other media types saw increases in ad spending, however, with digital and radio seeing rises of 2% and 8% respectively. The increase in radio advertising was mainly due increased spending from the retail and pharmaceutical industries.
Cinema was by the far the most rapidly growing medium, however, with ad spending going up by 13%.
E-Marketer predicts that ad spending in Finland will pick up again this year, forecasting an increase of 0.5%.
Webcertain's global marketing news bulletins are daily 5-minute videos, providing marketers with the latest international digital marketing news in an easy-to-digest format.
The following two tabs change content below.
Elin Box
Content Marketing Manager
at
Webcertain
Elin is a Content Marketing Manager at Webcertain. She is responsible for Webcertain's Self-learning platform, producing in-depth guides on a range of international digital marketing topics. She also helps run the Webcertain blog and is the writer of the Webcertain search and social report, an annual report summarising digital marketing best practices in over 50 countries. She is passionate about educating and empowering people to make the best decisions for their business and is proud to help share Webcertain's wealth of digital marketing knowledge with the world. Elin is from the UK.