Global Marketing News – 12th May
France backs a bid to force Google to disclose its search algorithm workings
The French parliament has voted for a new bill that would require search engines to display up to 3 rivals on their home page.
They would also have to show the workings of their search ranking algorithms to prove that they are not promoting their own products over others.
While Google hasn't been specifically named, it's quite clear that the tech giant is being targeted, given that it has around a 90% share of the French search market.
The aim of the bill is to improve transparency and ensure fairness. The new regulations will also tackle data protection, an issue that has been highlighted recently in a European Court of Justice case about out-dated information.
If the bill is passed, search engines that don't comply could be fined up to 10% of their global revenue.
Europe prepares to tighten regulations for digital giants
As Google continues to defend itself against antitrust allegations, the EU is considering tightening up regulations for other big internet companies.
The European Union is particularly concerned about the control some countries have over the market, and how that market is manipulated. It will also be focusing on how consumer data is used.
Companies such as Amazon, Ebay and Facebook will be targeted in the move towards a single, digital market and issues such as transparency and high cross-border tariffs will be tackled.
The assessment will be carried out this year, the aim being to create a level playing field where goods and digital content can be accessed from anywhere. The EU hopes that the move will bring the different countries in the EU together, as well as creating jobs and raising the GDP.
Online Shopping is A Global Trend
A global e-commerce survey has found that a quarter of global consumers order their groceries online for home delivery.
The survey, carried out in 60 countries, showed that over half of people questioned would be willing to order groceries online in the future. Online and mobile coupons are also becoming increasingly popular.
63% of consumers say they would download a loyalty app on a mobile and would be open to trying mobile shopping lists and virtual stores.
These figures highlight the growing role of technology in the retail market. As more and more people own at least one mobile device, technology is responding to make shopping faster and more efficient, both online and in actual stores.
However, consumers aren't turning their back on physical stores completely, instead preferring a more blended shopping experience that incorporates both.
Mobile friendly audit for SEO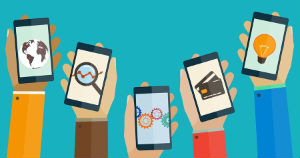 Mobile usage has been growing all over the world, with mobile traffic now accounting for more than 30% of total internet traffic globally. If your website is already well-optimised for search engines, there are only a few additional things which you need to consider when optimising for mobile search. With this audit, your website's mobile configuration, website design and structure will be evaluated from the perspective of mobile search to ensure that visitors who access your website from mobile devices have an experience optimised for the device they are using.
Sponsored
ccTLD registration continues to rise in Europe
The total number of European ccTLD registrations has passed 67 million in the first quarter of 2015.
A report carried out by DomainWire, a company that looks at trends in global domains, shows that the 20 largest ccTLDs represent 82% of global registrations.
Germany has the highest rate in Europe, with 15.9%, closely followed by the UK with 10.6. Germany is also the largest country in terms of population, with 20 domains per 100 inhabitants.
The country with the highest rate increase is Portugal. Their rates have gone up by 3.9%, a figure that is attributed to their promotion of domain names associated with national identity.
These figures indicate an overall steadying of rates over the past 3 years.
Wal-Mart Plans to Launch a Mobile Shopping app in China
The multinational retail corporation this week announced that it is ramping up its e-commerce operation in China, a plan that includes the introduction of its first Chinese mobile shopping app.
Wal-Mart already has 142 stores in China but is planning another 115 over the next three years. Its new app will enable customers to order online for either home delivery or for pick up in-store. Its current mobile app only helps users locate their nearest store.
The company is also introducing new payment systems so that customers can pay for goods with their smartphones in a Wal-Mart store.
Wal-Mart staked its claim in online retail in China in 2011 when it bought a 51% share in Yihaodian, a food and household goods store.
Webcertain's global marketing news bulletins are daily 5-minute videos, providing marketers with the latest international digital marketing news in an easy-to-digest format.
The following two tabs change content below.
As the Research Manager of multilingual web marketing agency Webcertain, Immanuel heads up the company's global market research activities and large content marketing projects. He is the author of several reports and guides, including 'The Essential Guide to Rel-Alternate-Hreflang' and 'The Webcertain Global Search and Social Report 2013'. Apart from being a tutor at the International Marketing School -- teaching online marketing professionals on business opportunities around the globe -- Immanuel is a regular speaker at the International Search Summit, a leading event series dedicated to multilingual search and social media marketing.
Latest posts by Immanuel Simonsen (see all)