Global Marketing News – 11th May
McDonalds is to Change its international Structure
The company's new chief executive, Steve Easterbrook, plans to reorganise the fast-food chain in an attempt to turn it into what he refers to as a 'modern, progressive burger company.'
This announcement comes after the company's worst performing year on record.
It hopes to increase global franchise ownership from 81% to 90% by 2018, and is planning on saving around $300 million by improving management efficiency.
McDonalds will also reorganise its international markets into new segments, based on business similarities rather that geography.
A new international lead market will be formed by the UK, Germany, Australia, France and Canada, amongst others. Countries including China, Poland, Russia and the Netherlands will be part of a high-growth market and the remaining countries will form a foundational market.
The US market, which accounts for 40% of the company's income, will remain the same.
Qihoo Is In Trouble for misleading Its Customers
The Chinese security software specialist is at the centre of a global scandal after significant discrepancies were reported between the products it offers for certification and the ones it offers its customers.
The company claims that any configuration differences are due to low-performance devices used by many of its customers, but the scandal has resulted in 3 leading European testing groups publicly withdrawing their global certificates for its software.
The company, which has more than 100 million users outside China, will now be under immense pressure. It needs to prove that it is capable of competing outside its protected domestic market. This could also have a knock-on effect on other Chinese tech giants such as Baidu and Alibaba.
As well as online security, Qihoo is a leading player in the Chinese search market, with its search engine Haosou.
3 in 10 Online Transactions in Europe are Now performed Via a Mobile Device
A study into mobile payments shows that 27.2% of all global online transactions made in the first quarter of 2015, happened using a smartphone or tablet.
The figures, published by Adyen, a multinational payment company show that in the last few months of 2014, when spending is traditionally high, 25.8% of transactions were through a mobile device.
Mobile friendly audit for SEO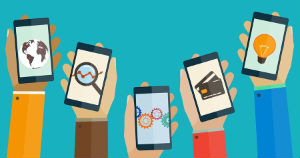 Mobile usage has been growing all over the world, with mobile traffic now accounting for more than 30% of total internet traffic globally. If your website is already well-optimised for search engines, there are only a few additional things which you need to consider when optimising for mobile search. With this audit, your website's mobile configuration, website design and structure will be evaluated from the perspective of mobile search to ensure that visitors who access your website from mobile devices have an experience optimised for the device they are using.
Sponsored
By splitting these figures into regions, figures show that 26.7% of US online transactions were mobile, compared to 28.6% in Europe.
However, looking at the UK alone it's clear that it is well ahead of global averages, with just over 44% of online transactions made through a mobile device in the first 3 months of this year.
Adyen says that people are becoming more comfortable using their devices for online shopping and payment processes are easier.
Just Eat Reports 47% Increase in Online Orders
The online takeaway service Just Eat has reported a 47% increase in orders in just the first quarter of this year.
60% of JustEat orders are placed via a mobile device, using the app or website. These figures highlight how the company is transforming the way takeaways are ordered.
Despite competition from newer companies, such as the US app, Uber, JustEat feels confident about its position in the market. The company plans to expand further into Europe, as well as South America after being particularly successful in Spain. The company thinks that an increase in working couples means a higher demand for convenience food.
Google's delay on its $1bn London office could be linked to EU politics
The company had originally planned to move 5,000 employees into a new office in London in 2016, but building work has yet to begin.
As Google fights EU antitrust allegations, there are claims that the company is waiting for the outcome of the investigations before proceeding with expansion.
The EU is also expected to announce a crackdown on geo-blocking in an attempt to create one digital market. This could have major repercussions on Google's position in Europe and it may no longer need another London office.
Webcertain's global marketing news bulletins are daily 5-minute videos, providing marketers with the latest international digital marketing news in an easy-to-digest format.
The following two tabs change content below.
Elin Box
Content Marketing Manager
at
Webcertain
Elin is a Content Marketing Manager at Webcertain. She is responsible for Webcertain's Self-learning platform, producing in-depth guides on a range of international digital marketing topics. She also helps run the Webcertain blog and is the writer of the Webcertain search and social report, an annual report summarising digital marketing best practices in over 50 countries. She is passionate about educating and empowering people to make the best decisions for their business and is proud to help share Webcertain's wealth of digital marketing knowledge with the world. Elin is from the UK.