21 April 2015 – Global Marketing News
JD launches international retailers site in China
One of the leading ecommerce companies in China, JD, has launched a new website dedicated solely to international retailers wanting to sell to Chinese consumers.
JD Worldwide currently has 450 different online shops containing over 150,000 items altogether, with health and childcare products featuring prominently.
All retailers on the site are foreign companies that don't have a partner-distributor in the country or a registered Chinese entity.
The stock is stored in China's new "free-trade zones", meaning that they are not subjected to the tariffs that normally apply to foreign companies selling products to Chinese consumers. It also means that products can be delivered on a same-day or next-day basis.
JD is not the first Chinese ecommerce company to create a website specifically for foreign retailers targeting the Chinese market. Alibaba launched a similar service last year, when they created Tmall Global.
Apple increases lead over Google Play for app store revenue
Research by App Annie has revealed that Apple's lead over Google for app store revenue has increased in the first quarter of this year.
The Apple App Store drew in 70% more revenue than Google Play, an increase of 10% compared to previous figures. Performance was particularly strong in the US, Canada and China. The increase in revenue in China is largely due to the huge popularity of the new larger-screened iPhone 6 and 6 Plus models, which have proved very popular in the Far East.
For the number of actual app downloads, however, Google Play strengthened its lead over Apple. Google Play had 70% more app downloads than the Apple App Store, with strong growth in the emerging markets of Mexico, Brazil, Turkey and Indonesia.
Apple App Store Rank Monitoring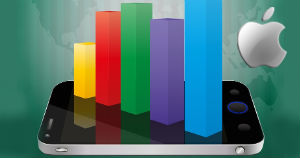 A significant number of app downloads occur as a result of being found in the app stores via keyword search. Ranking reports are essential tools for tracking the visibility of your app(s) against strategically important keywords. By monitoring changes in rank they can be used to gauge the effectiveness of your promotional efforts, new app versions and to keep track of your competitors or new entrants to the market. An experienced app project manager will upload your target keywords and competitors into our monitoring software, creating a report listing your ranking for each keyword that you will receive in an Excel format.
Sponsored
Staples launch B2B ecommerce site in India
The office supplier Staples has launched a B2B ecommerce site in India.
The site is aimed at small-to-medium sized businesses in India, and the company has said that it aims to get 10,000 clients in Mumbai in the first 3 months alone.
Staples also plans to expand to the cities of Delhi and Bangalore and ultimately wants to have a customer-base of around 100,000 Indian businesses.
The company also has plans to expand beyond just selling office supplies, and has hinted that it is interested in going into the tech device and accessory market, as well as office furniture and business gifts.
60% of global mobile ad spend goes on utility apps
A staggering 60% of all mobile ad spend worldwide went on utility apps in the first quarter of this year, according to AppFlood.
Utility apps are those which help improve the functionality of the mobile phone it's downloaded to, and includes junk file management apps and mobile security apps, for example.
Ads for different types of utility apps were worth different amounts of money, according to the report, which found that customisation apps were worth the most, at 0.70 US dollars per impression, followed by battery savers, launchers, privacy and security apps, and speed boosters coming in with the lowest cost per impression.
Indonesia and India came out on top when looking at global utility app installs, closely followed by Vietnam and Thailand.
Chinese government to punish Sina for "illegal" content
And finally, the Chinese government has said that it will impose an as-yet-unspecified punishment on the technology company Sina as part of its strict internet crackdown.
Under Chinese law, it is illegal for websites to contain any content that is critical of the government in a way that could be "destabilising" for the country.
Sina is alleged to have published "illegal" content in its news section and has also apparently received the largest number of user complaints of any website, for "spreading rumours, terror, obscenity and pornography, fraud, publicising cults, distorting facts, violating social morality and promoting vulgarity", according to the Chinese authorities.
Sina has said that it will resolve these problems and operate within the law. The Cyberspace Administration of China has said that if Sina fails to fix its problems, it risks being forced to shut down its news services.
Webcertain's global marketing news bulletins are daily 5-minute videos, providing marketers with the latest international digital marketing news in an easy-to-digest format.
The following two tabs change content below.
Cal O'Connell
Lead Videographer
at
Webcertain
Cal has been the Lead Videographer at Webcertain for nearly seven years, creating a whole range of digital video content. As his main passion, and with over ten years of experience, he also has a hand in making feature films, short films and other online content, as well as providing his voice (and sometimes his face) to videos. In addition to Webcertain's content, he also plays a part in creating content for a wide selection of our clients!
Latest posts by Cal O'Connell (see all)