The latest addition of the annual Webcertain Global Search and Social Report has been released, sharing insights into the search and social markets in 34 countries across the globe.
Produced by international search marketing services provider Webcertain, the report takes a look at the internet landscape in all of the featured countries and shares invaluable statistics, data and trends to guide international search and social strategy for organisations targeting a global audience.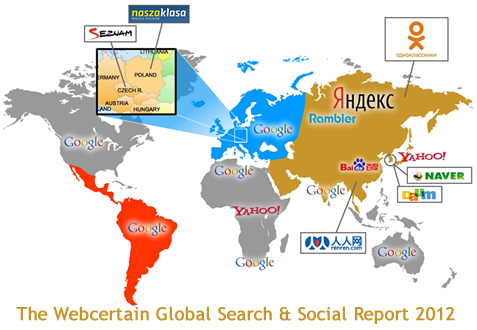 Did you know that Polish web users prefer local social network Nasza Klasa to Facebook? Or that Spain is one of leading countries in the world for smartphone and tablet adoption?
Are you optimising your videos for Italy, where the medium is more popular than any other major European country and have you considered new Chinese search engine Qihoo 360 when planning your strategy for China?
The Webcertain Global Search and Social Report 2012 highlights the unique characteristics of each market in one single document, making it an invaluable tool in any online marketer's kit.
The report can be downloaded for free now!
Download The Webcertain Global Search and Social Report 2012
The following two tabs change content below.
Gemma Houghton
Director of Marketing
at
Webcertain
Gemma has worked in international search marketing for over 14 years and is Director of Marketing at Webcertain, overseeing all marketing activities for the Group. She also organises and programmes Webcertain's International Search Summit, a search marketing conference focusing on international and multilingual online marketing which runs across Europe and the US. Gemma holds a Professional Diploma in Marketing from the Chartered Institute of Marketing, a Diploma in Management and Leadership from the Chartered Management Institute, and a BA joint honours degree in French and German.
Latest posts by Gemma Houghton (see all)